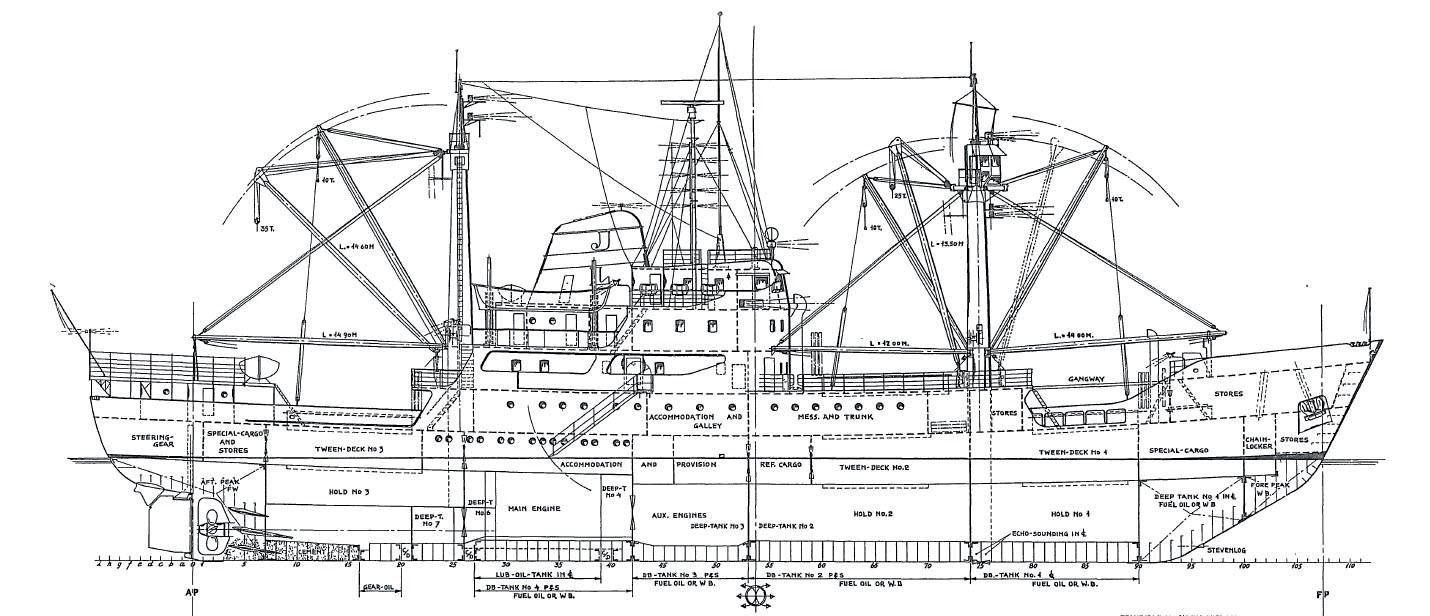 MV Nella Dan
Shipping company:
Dampskibsselskabet Vesterhavet, J. Lauritzen, Copenhagen.
Home port:
Esbjerg, Denmark
Call sign:
OZKC
IMO-no:
5248762
Build:
1961
Yard:
Aalborg Værft A/S, Danmark.
Keel-laying:
14-11-1960
Build no.:
109
Launch date:
13-06-1961
Trial Run:
18-09-1961
Service:
1961–1987
Delivered:
04-10-1961
Deleted from the ship's register:
01-04-1989
Length:
75,24 m
Brt:
2.206
Main Engine:
1 stk. B&W type 835VTBF62
Width:
14,30 m
Nrt:
1.060
HP
2.240 BHP
KW:
1.650
Draught:
6,57 m
TDW:
2.200
Knots:
13,0
Electric system:
110 volt direct current
Crew:
33 crew members, including captain, 3 mates, radio officer, boatswain, 3 able body seamen, 3 efficient deckhands (ordinary seamen/junior ordinary seamen), 2 trainee mates, chief engineer, 2 engineers, donkey man, 2 greasers, 2 assistants/trainee engineers, steward, cook, junior cook, cook's mate, 2 orderlies and 4 trainee orderlies.
Passengers:
original capacity 36 passengers. After modifications in 1971, capacity was increased to 54 passengers.
Additional history:
1961
Nella Dan was fitted with the same features for sailing in icy conditions as her older sister ships, including an icebreaker stern, ice fins and ice knife. As a special modification, Nella Dan also had a double hull in the engine room and parts of the hold. Among the modern conveniences were interior ladders to the crow's nest on the foremast, own freshwater supply from an Atlas generator and an industrial dishwasher. When the ship was put into service as a polar vessel, Nella Dan was considered to set the new standard for polar ships.
1968
The shipping company is renamed Rederiet Vesterhavet A/S, Copenhagen.
1971
Nella Dan is converted with a covered helicopter deck on the aft deck, a 'cottage' on the monkey island and increased accommodation for passengers and scientific crew. New tonnage: 2,158 BRT/ 1,061 NRT.
1980
Shipping company is renamed J. Lauritzen Holding A/S.
1980
Nella Dan is converted to a marine biology research vessel, including stern port for a stern trawl and labs on the aft deck. New tonnage: 2,186 BRT/1,073 NRT/ 2,150 TDW.
1981
Sold to J. Lauritzen A/S, Copenhagen.
1987
Nella Dan modified with new lifeboats.
1987
Forlis på Shipwrecked off Macquarie Island in subantarctic waters. Engine room flooded. Declared beyond repair.